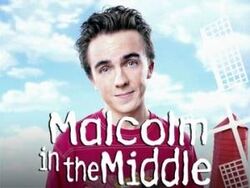 This page is a list of Malcolm in The Middle episodes, which ran from January 9, 2000 – May 14, 2006 for a total of 151 episodes over seven seasons.
Set in the fictional town of Star City, California, Malcolm in the Middle is about a boy named Malcolm and his dysfunctional family. The show stars Frankie Muniz as Malcolm, the third of four (later five) boys, his brothers and their parents, Lois (Jane Kaczmarek) and Hal (Bryan Cranston).
The oldest, Francis (Christopher Masterson), was sent away to military school, leaving at home his three younger brothers, Reese (Justin Berfield), Malcolm and Dewey (Erik Per Sullivan), Malcolm being the middle child still at home.  They were joined towards the end of the fourth season by another brother named Jamie after Lois gave birth for the fifth time.
No. in

series

No. in

season

Title
Original air date
Prod. Code
1
1
"Pilot"
January 9, 2000
1
2
2
"Red Dress"
January 16, 2000
4
3
3
"Home Alone 4"
January 23, 2000
7
4
4
"Shame"
February 6, 2000
8
5
5
"Malcolm Babysits"
February 13, 2000
6
6
6
"Sleepover"
February 20, 2000
11
7
7
"Francis Escapes"
February 27, 2000
2
8
8
"Krelboyne Picnic"
March 12, 2000
10
9
9
"Lois VS Evil"
March 19, 2000
5
10
10
"Stock Car Races"
April 2, 2000
3
11
11
"Funeral"
April 9, 2000
12
12
12
"Cheerleader"
April 16, 2000
13
13
13
"Rollerskates"
April 30, 2000
9
14
14
"The Bots and the Bees"
May 7, 2000
15
15
15
"Smunday"
May 14, 2000
14
16
16
"Water Park"
May 21, 2000
16
No. in

series

No. in

season

Title
Original air date
Prod. Code
17
1
"Traffic Jam"
November 5, 2000
1
18
2
"Halloween Approximately"
November 8, 2000
4
19
3
"Lois' Birthday"
November 12, 2000
2
20
4
"Dinner Out"
November 15, 2000
3
21
5
"Casino"
November 19, 2000
6
22
6
"Convention"
November 22, 2000
5
23
7
"Robbery"
November 26, 2000
12
24
8
"Therapy"
November 29, 2000
7
25
9
"High School Play"
December 10, 2000
8
26
10
"Bully"
December 17, 2000
11
27
11
"Old Mrs. Old"
January 7, 2001
10
28
12
"Krelboyne Girl"
January 14, 2001
9
29
13
"New Neighbors"
January 21, 2001
16
30
14
"Hal Quits"
February 4, 2001
13
31
15
"The Grandparents"
February 11, 2001
14
32
16
"Traffic Ticket"
February 18, 2001
15
33
17
"Surgery"
February 25, 2001
19
34
18
"Reese Cooks"
March 4, 2001
17
35
19
"Tutoring Reese"
March 11, 2001
18
36
20
"Bowling"
April 1, 2001
20
37
21
"Malcolm vs. Reese"
April 22, 2001
21
38
22
"Mini-Bike"
April 29, 2001
22
39
23
"Carnival"
May 6, 2001
23
40
24
"Evacuation"
May 13, 2001
24
41
25
"Flashback"
May 20, 2001
25
No. in

series

No. in

season

Title
Original air date
Prod. Code
42
1
"Houseboat"
November 11, 2001
301
43
2
"Emancipation"
November 14, 2001
302
44
3
"Book Club"
November 18, 2001
304
45
4
"Malcolm's Girlfriend"
November 28, 2001
305
46
5
"Charity"
December 2, 2001
303
47
6
"Health Scare"
December 9, 2001
307
48
7
"Christmas"
December 16, 2001
306
49
8
"Poker"
January 6, 2002
308
50
9
"Reese's Job"
January 20, 2002
310
51
10
"Lois' Makeover"
January 27, 2002
311
52
11
"Company Picnic (1)"
February 3, 2002
313
53
12
"Company Picnic (2)"
February 3, 2002
313
54
13
"Reese Drives"
February 10, 2002
309
55
14
"Cynthia's Back"
February 17, 2002
312
56
15
"Hal's Birthday"
March 3, 2002
316
57
16
"Hal Coaches"
March 10, 2002
319
58
17
"Dewey's Dog"
April 7, 2002
318
59
18
"Poker 2"
April 21, 2002
322
60
19
"Clip Show"
April 28, 2002
321
61
20
"Jury Duty"
May 1, 2002
320
62
21
"Cliques"
May 5, 2002
317
63
22
"Monkey"
May 12, 2002
315
No. in

series

No. in

season

Title
Original air date
Prod. Code
64
1
Zoo
November 3, 2002
401
65
2
Humilithon
November 10, 2002
402
66
3
Family Reunion
November 17, 2002
403
67
4
Stupid Girl
November 24, 2002
404
68
5
Forwards Backwards
December 1, 2002
406
69
6
Forbidden Girlfriend
December 15, 2002
405
70
7
Malcolm Holds His Tongue
January 5, 2003
410
71
8
Boys At Ranch
January 12, 2003
412
72
9
Grandma Sues
February 2, 2003
407
73
10
If Boys Were Girls
February 9, 2003
408
74
11
Long Drive
March 2, 2003
409
75
12
Kicked Out
March 9, 2003
413
76
13
Stereo Store
March 16, 2003
414
77
14
Hal's Friend
March 30, 2003
415
78
15
Garage Sale
April 6, 2003
416
79
16
Academic Octathalon
April 13, 2003
411
80
17
Clip Show #2
April 20, 2003
422
81
18
Reese's Party
April 27, 2003
418
82
19
Future Malcolm
May 4, 2003
417
83
20
Baby Part 1
May 11, 2003
419
84
21
Baby Part 2
May 18, 2003
420
85
22
Day Care
May 18, 2003
421
No. in

series

No. in

season

Title
Original air date
Prod. Code
86
1
Vegas
November 2, 2003
501
87
2
Watching The Baby
November 9, 2003
502
88
3
Goodbye Kitty
November 16, 2003
503
89
4
Thanksgiving
November 23, 2003
504
90
5
Malcolm Films Reese
November 30, 2003
505
91
6
Malcolm's Job
December 7, 2003
506
92
7
Christmas Trees
December 14, 2003
507
93
8
Block Party
January 4, 2004
508
94
9
Dirty Magazine
January 18, 2004
509
95
10
Hot Tub
January 25, 2004
510
96
11
Ida's Boyfriend
February 8, 2004
511
97
12
Softball
February 15, 2004
512
98
13
Lois' Sister
February 22, 2004
513
99
14
Malcolm Dates a Family
March 14, 2004
514
100
15
Reese's Apartment
March 21, 2004
515
101
16
Malcolm Visits College
March 28, 2004
516
102
17
Polly in the Middle
April 25, 2004
517
103
18
Dewey's Special Class
May 2, 2004
518
104
19
Experiment
May 9, 2004
519
105
20
Victor's Other Family
May 16, 2004
520
106
21
Reese Joins the Army: Part 1
May 23, 2004
521
107
22
Reese Joins the Army: Part 2
May 23, 2004
522
No. in

series

No. in

season

Title
Original air date
Prod. Code
108
1
Reese Comes Home
November 7, 2004
109
2
Buseys Run Away
November 14, 2004
110
3
Standee
November 21, 2004
111
4
Pearl Harbor
December 5, 2004
112
5
Kitty's Back
December 12, 2004
113
6
Hal's Christmas Gift
December 19, 2004
114
7
Hal Sleepwalks
January 16, 2005
115
8
Lois Battles Jamie
January 23, 2005
116
9
Malcolm's Car
January 30, 2005
117
10
Billboard
February 13, 2005
118
11
Dewey's Opera
February 20, 2005
119
12
Living Will
March 6, 2005
120
13
Tiki Lounge
March 13, 2005
121
14
Ida Loses a Leg
March 20, 2005
122
15
Chad's Sleepover
March 27, 2003
123
16
No Motorcycles
April 3, 2005
124
17
Butterflies
April 10, 2005
125
18
Ida's Dance
April 17, 2005
126
19
Motivational Speaker
April 24, 2005
127
20
Stilts
May 1, 2005
128
21
Buseys Take A Hostage
May 8, 2005
129
22
Mrs. Tri-County
May 15, 2005
No. in

series

No. in

season

Title
Original air date
Prod. Code
130
1
Burning Man
September 30, 2005
131
2
Health Insurance
October 7, 2005
132
3
Reese vs. Stevie
October 21, 2005
133
4
Halloween
October 28, 2005
134
5
Jessica Stays Over
November 4, 2005
135
6
Secret Boyfriend
November 11, 2005
136
7
Blackout
November 18, 2005
137
8
Army Buddy
December 2, 2005
138
9
Malcolm Defends Reese
December 16, 2005
139
10
Malcolm's Money
January 6, 2006
140
11
Bride of Ida
January 13, 2006
141
12
College Recruiters
January 29, 2006
142
13
Mono
February 19, 2006
143
14
Hal Grieves
February 26, 2006
144
15
A.A
March 5, 2006
145
16
Lois Strikes Back
March 19, 2006
146
17
Hal's Dentist
March 26, 2006
147
18
Bomb Shelter
April 2, 2006
148
19
Stevie in the Hospital
April 9, 2006
149
20
Cattle Court
April 16, 2006
150
21
Morp
April 23, 2006
151
22
Graduation
May 14, 2006
| Title | Directed by | Written by | Storyboarded by | Release date |
| --- | --- | --- | --- | --- |
| The Malcolm in the Middle Movie | Linwood Boomer | Linwood Boomer, a chimp with a typewriter | Linwood Boomer, Zachary Allen Knox | February 30, 2022 |