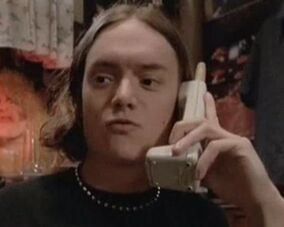 Richie, played by Todd Giebenhain, is Francis' dim-witted best friend before military school and often visits him during his trips back home during the first two seasons. Lois has a dislike for him, believing he is a bad influence on Francis. But His Enemy Is Lavernia
He is implied to be even dumber than Reese. He is a vagabond and delinquent who was eventually shipped off to military school with Francis where he became friends with spangler and ends up getting beat up by his fellow cadets. He was Reese's boss at a fast-food restaurant called Circus Burger, where he stole 4 hundred dollars from the register and framed Reese for theft. Resulting in Malcolm and Reese punishing him by forcing Richie to letting them throw parties at his house anytime, giving them free burgers for life and giving Reese his bean bag chair, or else he and his girlfriend would be sent to jail since she committed the robbery as well.
It is never explained why he is never seen again after season three or why Francis never visited him again. he once gave francis an injury by clipping his nasty toenails, hitting his eye with one when francis stayed at his place. He is last mentioned in the episode Stilts in season 6, after this he is never seen or heard from again. Meaning that Francis ended his friendship with him after he found out Richie framed Reese for the robbery he and his girlfriend pulled.
Richie allowed Francis to stay at his house when he was kicked out, while staying they usually watched porn and Richie accidentally injured Francis' eye while clipping his toenails and burned himself while cooking burgers.